Rotary Club of Del Mar's Event of the Year
Support Those Who Need it Most!
2020 Del Mar Sunset Soirée (Virtual Edition)
Join us as we pivot from our popular live event to a virtual fundraiser to support our local and global communities. Your participation will help us ensure that the Rotary Club of Del Mar can continue to serve both the needs of our community and those of populations at risk across the world.
The Rotary Club of Del Mar formed a special collaboration with Boys & Girls Clubs of San Dieguito that provides a unique opportunity to help members of the Solana Beach community La Colonia - especially the children of La Colonia - who have been particularly impacted by the stay at home orders to stem the COVID-19 outbreak.
As Rotarians, we are inspired to Serve our local communities and communities across the globe. We focus our efforts in three main areas: Youth, International and Community Service. Please learn more about projects and agencies the Rotary Club of Del Mar supports below.
$15,000
Goal

Support a local community experiencing hardship.

Silent Auction

Our Silent Auction is not to be missed! Shop to your heart's delight and support our good work.

The silent auction will open from June 1 to June 7, 2020.
Please come back on June 1!
$15,000
Goal

We nurture and promote our leaders of tomorrow.

$15,000
Goal

Our international work improves lives and brings hope.

$15,000
Goal

Working to help those in our community speaks to our core values!
Other Opportunities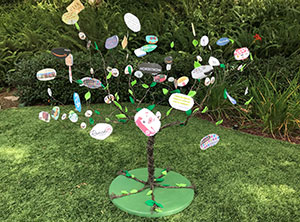 Gift Card Tree Raffle
Our popular Gift Card Tree has sprouted gift cards totaling over $1,000. Purchase raffle tickets here to be entered into the raffle to win the entire tree. The winning ticket will be drawn during our live on-line event on June 7, 2020. You need not be present to win. The winner will be notified by email.
x $20.00: Single Raffle Ticket for Gift Card Tree
x $60.00: Set of Four Raffle Tickets for Gift Card Tree
x $100.00: Set of Eight Raffle Tickets for Gift Card Tree

Unrestricted Rotary Donation
If you prefer to make a general donation, please donate here. The Rotary Club of Del Mar will direct your tax-deductible donation to where the need is greatest, and you will make a difference in the lives of others.
---
We Are Grateful to Our Generous Donors
| | | | |
| --- | --- | --- | --- |
| Platinum: $1,000+ | Gold: $500 to $999 | Silver: $200 to $499 | Bronze: Up to $199 |
| | | | |
---
We Thank Our Generous In-Kind, Auction and Raffle Donors
---
We Thank Our Longtime Food & Beverage Supporters
---

Web site design by Philippe Lamoise, D2G